About 700 teachers from 24 countries and regions attended the International Chinese Language Teaching Cloud Symposium on 29 and 30 August, 2020 to promote new developments in international Chinese online teaching.
It was jointly organised by Chinese Testing International, Singapore Crestar Confucius Classroom, East China Normal University International Chinese Language School, and Chinese Plus.

The theme was "Present and Future of International Chinese Teaching". It addressed the opportunities and challenges of the new international Chinese cloud teaching model.
Keynote speeches were presented by Professor Zhang Xinsheng, Director of the Modern Language Center of the American International University in London, UK and Vice President of the European Chinese Language Teaching Association, Ms Xiong Huali, the Chinese-English Bilingual Principal of the Canadian International School of Singapore, Professor Ye Jun, vice dean, school of International Chinese Studies, East China Normal University, and Mr. Li Yanan, Research and Development Director of China Testing International.
In response to the new model of international Chinese cloud teaching, Professor Zhang Xinsheng pointed out that online teaching has more issues and challenges than solutions. However, when technology is applied to Chinese teaching, both challenges and opportunities emerge. Hybrid online and offline language teaching has become a norm.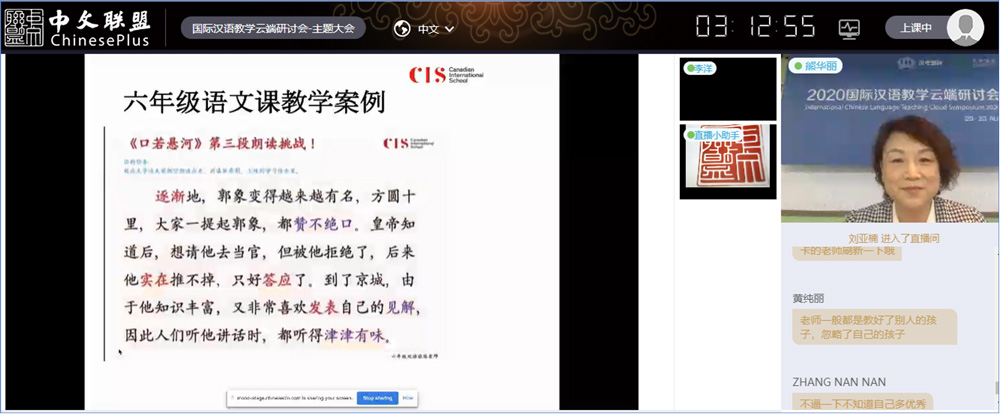 Ms Xiong Huali, observed that while there were differences between Chinese and English teaching, she envisage a common ground could be found through close cooperation between Chinese and English teachers.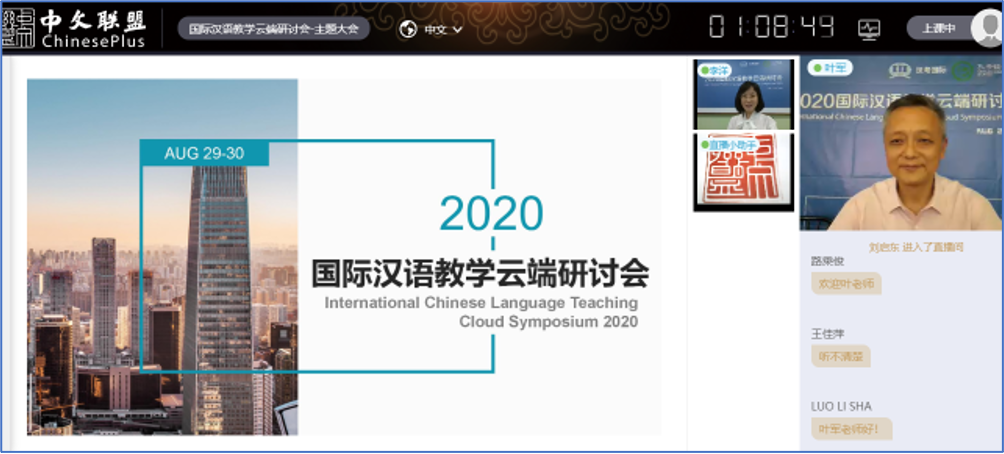 Professor Ye Jun clearly pointed out that "the main body of online teaching is people". Online teaching should take advantage of strengths and avoid weaknesses, to adopt a multi-channel model.
Ms Li Yanan, on behalf of the Chinese Testing International, explained the "Chinese Language Proficiency Level Standards for International Chinese Education". She introduced the new paradigm of "Three Grades and Nine Levels", the new path of "3+5" and the new standard of quantitative indicators for grades. This means Hanyu Shuiping Kaoshi (HSK) is about to enter a higher level.
In addition, the workshops focused on teaching practices also received positive feedback from the participants. Eight experts including Professor Zheng Yanqun, Ms Zhu Wenhong, Ms Jin Ying, Dr. Ji Jianli, Dr. Liu Hong, Dr. Du Lijuan, Associate Professor Liu Ying, and Ms Wang Fang respectively have provide forward-looking, creative and practical sharing, which are valuable inspirations from multiple perspectives for the development of international Chinese cloud teaching.
Cloud teaching has emerged as an important trend in education, as international Chinese teaching continues to seek innovation and change. The Confucius Classroom at Crestar Singapore will continue to commit itself to working with international Chinese teachers from all over the world to seize new opportunities for the further development of Chinese teaching and promote international Chinese education to a new stage!