Crestar Education (M) Sdn Bhd (CEM) welcomed Director Dr Zaitol Binti Salleh, Ministry of Social Welfare Selangor, and her colleagues from the related agency on 26 March 2021 for a school tour at Kinderland @ USJ 11. Besides the honourable visit, we were delighted to be presented with the renewed Taska licence.
Kinderland  Preschool @ USJ 11 is located in the heart of Subang Jaya, a declared city in 2020. Its humble beginning started as a franchise centre in 2004 before the bought over by CEM in 2013. With the capacity of 300 students, the centre became the direct flagship centre.
Kinderland has always stood by the mission to provide quality child care and educational services to the community. The year 2020 and the current worrying pandemic have not dampened Kinderland's commitment to it. We work closely with the ministry, following safety guidelines set, to provide a safe environment and build a strong foundation in our children's development.
It was with great respect to welcome our esteemed guests and showcase the excellent work Kinderland have been doing.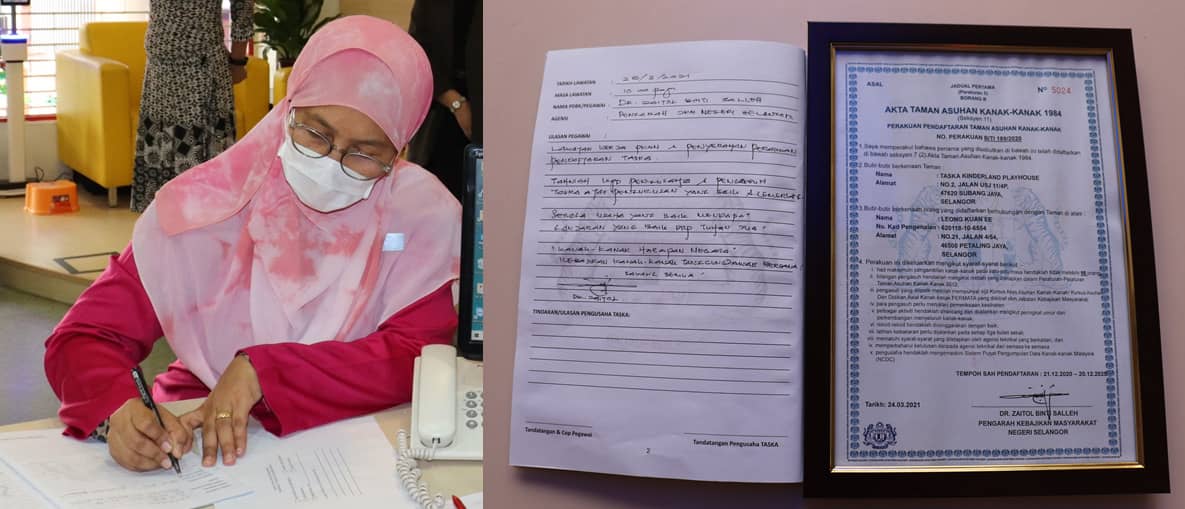 Dr Zaitol's message for Kinderland:
Congratulations to the Management and teachers of TASKA for good and excellent school management.
May good efforts be well rewarded by God.
"Children are the Hope of the Nation."
Child welfare is a shared responsibility.
Love all,
Dr. Zaitol
We thank Dr Zaitol for her visit and leaving us with a motivating message. Kinderland continues to strive even better, to bring quality teaching and education to our children.