For our teachers of Kinderland, Skool4Kidz, NurtureStars and ELFA preschools and The Grange Institution International School, 2020 is probably the most challenging year in their career.
From April to June 2020, the Circuit Breaker in Singapore disrupted classes. While some teachers continued working at the centres to care for the children of essential service workers, others had to adjust quickly to provide online learning from their homes.
Our teachers are truly unsung heroes, bravely soldiering on in spite of concerns for the health of the young ones in their care and for themselves. Many of our teachers, mothers themselves, did their best to juggle teaching Home-based Learning lessons and managing their own young children.
It has been a trying time all around and our teachers have been impressive as frontliners, facing the challenges bravely while embracing new ways of teaching and caring for the children in our care.
To our dear Teachers,
Thank you for being at the forefront of a new and exciting journey for our 20,000-strong students in Singapore and the region. In a year rocked by uncertainty. 
A year when the paradigm of teaching shifted – from traditional to digital. You stood up bravely to these challenges and embraced the new way of teaching. Sacrificing untold resources and time to make the transition seamless, creative and fun. 
Your courage, resilience and dedication have been nothing short of extraordinary. And we are so very proud of you!
To thank our teachers for their hard work, dedication and selflessness, parents have written heartfelt notes and messages. Find out more on our parents say: https://crestargroup.com/preschool-childcare-testimonial/.
Here are some snippets of the lovely messages our parents left our teachers: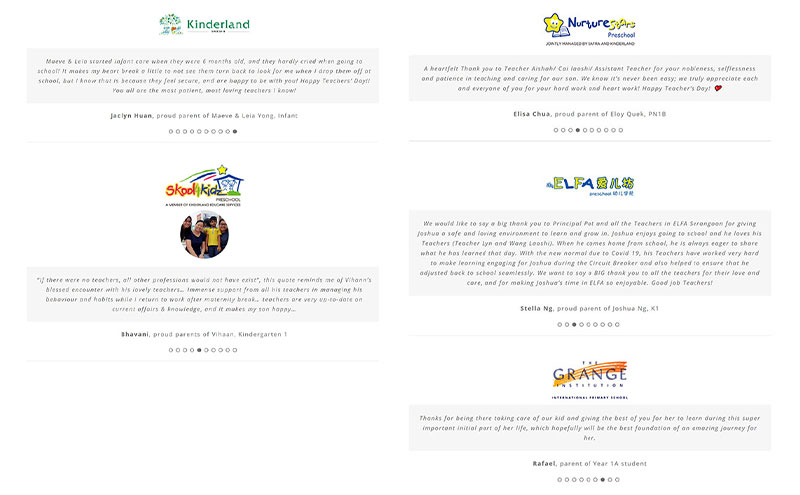 Let us all keep up the good work!